08 Center operates a distribution center that conducts weighing / packaging, stock management, and shipment, and a factory that conducts mold designing / manufacturing, product assembling and processing.

Mold Processing
Form designing to manufacturing of molds / dies used in production, Taiyo Stainless Spring carries out everything in-house. As a result, we are committed to achieving low cost and short delivery times, as well as flexibly responding to product specifications, maintaining confidentially, and safely storing molds.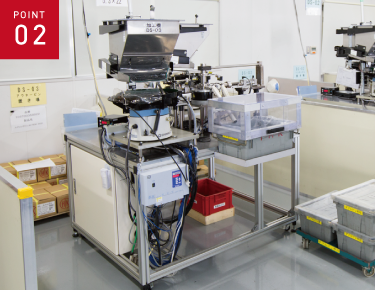 Assembly
We conduct automatic assembly of products such as Double Pins.
Automatic Measuring
For products that require, we check measurements for keeping high performance / quality.

Weighing and Packaging
Custom Order products (ordered items) that we produce are packaged according to customer specifications.
We package our Standard Products according to our own specifications.