Name of Company
Taiyo Stainless Spring Co.,Ltd.(registered)
Capital
484 million yen( authorized shared capital:1,100 million yen )
Established
4 Feb., 1958
Administration Department
The Office of Directors, General Affairs Division, Accounting Division, Operation Department
Sales Department
[Sales Division]
Marketing and Sales Planning Section, Sales Section,Export Section,Sendai Sales Branch, Nagoya Sales Branch, Osaka Sales Branch, Hiroshima Sales Branch, Shizuoka Sales Branch
Design Department
[Engineering Department]
Design section 1, Production Technology Section, Mold Design Section, Design section 2
Manufacturing Department
08 Center(warehouse & factory), Saitama No1 Factory, Saitama No2 Factory,
Saitama No3 Factory, Watarase Factory, Tochigi Chizuka Factory
Quality Assurance Department
Quality Assurance Division
No. of Employees
About 450 Employees
Headquarters Address
15-17, Miharadai 1-chome, Nerima-ku, Tokyo 177-8501 
TEL:81-3-3922-4111 FAX:81-3-5387-7279
Organization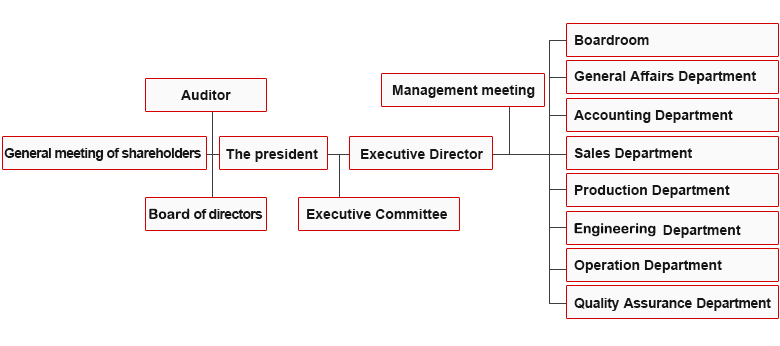 Products
Spring parts, spacer parts, bush parts, shaft parts, guide parts, assembly parts,pressing tools,and jigs, ceramics, resin moldings
Main Customers
Domestic
Aisin Seiki Co.,Ltd. Alps Alpine Co.,Ltd. Isuzu Motors Ltd. Valeo Thermal Systems Japan Corporation. NTN Corporation. Oki Electric Industry Co.,Ltd. Origin Co.,Ltd.
Omron Corporation. Olympus Corporation. Canon Inc. Canon Electronics Inc. Kyocera Corporation. CKD Corporation. Shimano Inc. Sharp Corporation. Suzuki Motor Corporation. 3m Corporation. Sony Corporation. Tamiya Inc. TDK Corporation. Toshiba Corporation. Toshiba Machine Co.,Ltd. Toyota Motor Corporation. Nikon Corporation. Nissan Motor Company. Nissan Shatai Company. NGK Insulators, Ltd. NEC Corporation. Denso Corporation. Denso Wiper Systems, Inc. Victor Company of Japan, Ltd. Pioneer Corporation. Panasonic Corporation. Panasonic Electronic Devices Co.,Ltd. Panasonic Shikoku Electronics Co.,Ltd. Panasonic Electric Works Co.,Ltd. Panasonic Mobile Communications Co.,Ltd. Hitachi, Ltd. Hitachi Maxell, Ltd. The Optronics Co.,Ltd. Fujifilm Corporation. Fuji Heavy Industries Ltd. Fujitsu Corporation. Fuji Electric FA Components & Systems Co.,Ltd. Bridgestone Corporation. Honda Motor Co.,Ltd. Mazda Motor Corporation. Mabuchi Motor Co.,Ltd. Mitsui Mining & Smelting Co., Ltd. Mitsubishi Motors Corporation. Mitsubishi Heavy Industries,Ltd. Mitsubishi Electric Components. Mitsumi Electric Co.,Ltd. Yamaha Motor Co.,Ltd. Yokogawa Electric Corporation. Yoshino Co.,Ltd. Riken Kaki Co., Ltd. YKK Corporation.

Other..6,000 companies

Overseas
USA:30 customers
Europe:50 customers
Asia:1,000 customers
Banking Relationship
The Sumitomo Mitsui Banking Corporation, Nerima branch
MUFG Bank,Ltd.  Ekoda branch
The Mizuho Bank Nerima Fujimidai branch
Resona Bank,Ltd.,Shakujii branch
The Bank for Commerce and Industrial Cooperatives, Ikebukuro branch
Mitsubishi UFJ Trust and Banking Corporation, Head Office.
Main Material Suppliers
Nippon Steel Corporation
Nippon Steel Nisshin Co.,Ltd.
Myodo Metal Co.,Ltd.
Nippon Seisen CO.,LTD.